3-5 piece band
This three to five piece band plays music from the 1950s to present day. An excellent sound is produced by the basic line-up of bass/guitar, drums and keyboards/male vocals. Saxophone and/ or female vocals can be added as the fourth and fifth members of the band for larger functions.
The band has played for a wide range of audiences, from young and mixed audiences at birthdays, weddings and anniversaries to older groups on various cruise liners. They also have a good range of jazz standards in their repertoire for performance where required.
please scroll down for song list
Please ask for band code stre
No flash player!
It appears that you don't have flash player installed. Click here to go to Macromedia download page.
-Alternatively, to receive demo tracks for this band please email us.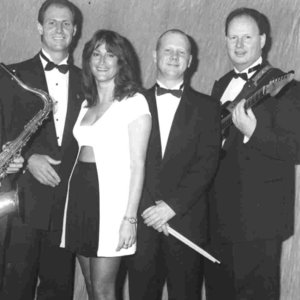 Spotlight Entertainments band roster
A selection from the band's repertoire:
"DANCE" songs
SHINE – Take That
YOUNG HEARTS RUN FREE –
YOU'RE JUST TOO GOOD TO BE TRUE –Andy Williams
BROWN EYED GIRL – Van Morrison
EVERY BREATH YOU TAKE - Police/Sting
GREASE – from'Grease' the movie
YOU TO ME ARE EVERYTHING-The real thing
OH WHAT A NIGHT – Frankie Valli and the Four Seasons
LADIES NIGHT - Kool and the gang
BAD GIRLS – Donna Summer/Jamiraquai
VALERIE – Amy Winehouse
DANCE THE NIGHT AWAY – Mavericks
MAN I FEEL LIKE A WOMAN- Shania Twain
MONEY MONEY MONEY - Abba
WATERLOO- Abba
DANCING QUEEN- Abba
MAMMA MIA –Abba
VOULEZ VOUS- Abba
CAR WASH – Rose Royce
BLACK VELVET – Allanah Myles
LONG TRAIN RUNNIN- Doobie Brothers
BRASS IN POCKET - The Pretenders
WALKING ON SUNSHINE – Katrina and the waves
SHOUT - Lulu
LA VIDA LOCA – Ricky Martin
ITS NOT UNUSUAL - Tom Jones
MY GIRL – The Temptations
HEY BABY- Dj 'tzi'
EVERYBODY NEEDS SOMEBODY – Blues Brothers
GIMME SOME LOVIN' – Blues Brothers
SHAKE YOUR TAIL FEATHER - Blues Brothers
MOVIN ON UP – M People
KNOCK ON WOOD – Aimy Stewart
KISSIN IN THE BACK ROW – The Drifters
HOW SWEET IT IS TO BE LOVED BY YOU – James Taylor
NEVER CAN SAY GOODBYE – Jimmy Sommerville
THE SHOOP SHOOP SONG - Sher
HAVE A NICE DAY - The Stereophonics
SOUL MAN – Blues Brothers
IN THE MIDNIGHT HOUR – Blues Brothers
EIGHT DAYS A WEEK – The Beatles
FROM ME TO YOU – The Beatles
CAN'T BUY ME LOVE – The Beatles
I FEEL FINE- The Beatles
PRETTY WOMAN – Roy Orbison
VARIOUS 60's ROCK'N 'ROLL…
FIELDS OF GOLD - Sting
GET HERE – Oleta Adams
YESTERDAY - The Beatles
HERO - Whitney Houston
EASY – The Commodores
JUST THE WAY YOU ARE – Barry White
THE WAY IT IS – Bruce Hornsby
SAVE THE LAST DANCE FOR ME – Michael Buble
SOMETHING ABOUT THE WAY YOU LOOK TONIGHT – Elton John
"JAZZY" songs
MOONDANCE – Van Morrison
FLY ME TO THE MOON – F Sinatra
WONDERFUL TONIGHT - Michael Buble
MY BABY JUST CARES FOR ME – Nina Simone
EVERYTHING – Michael Buble
THE WAY YOU LOOK TONIGHT – Michael Buble
IT HAD TO BE YOU – Harry Conick Jnr ( from'When Harry met Sally')
YOU WERE ALWAYS ON MY MIND – Van Morrison
THEY CAN'T TAKE THAT AWAY FROM ME- Tony Bennett
I'VE GOT YOU UNDER MY SKIN – F Sinatra
SOMEONE TO WATCH OVER ME – Ella Fitzgerald
I'VE GOT THE WORLD ON A STRING - F Sinatra
UNFORGETTABLE – Nat King Cole
COME FLY WITH ME – F Sinatra
CHICAGO- F Sinatra
HELLO YOUNG LOVERS – F Sinatra
PLUS MANY MORE…………..
www.spotlightentertainments.com - 01825 713213 - info@spotlight-ents.biz