Excellent Pop Duo
This established function duo features male and female harmony vocals and the dexterity of a talented guitarist. They have a large repertoire with emphasis on 70s to present day music.
The duo has played in and around the South Coast of England with great success, and have also worked in Abu Dhabi, Dubai, Bahrain, Jordan, Israel, Germany and Spain. They play regularly for weddings, private and corporate functions and golf club dinner dances. They have also played on several P&O cruises. Their success has been gained through the twin assets of their musical ability, and their pleasant personalities.
please scroll down for song list
Please ask for band code stan
No flash player!
It appears that you don't have flash player installed. Click here to go to Macromedia download page.
-Alternatively, to receive demo tracks for this band please email us.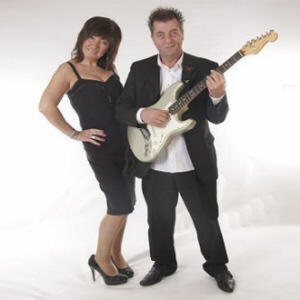 Spotlight Entertainments band roster
A selection from the band's repertoire:
The tide is high
Just a little bit more
One step closer
Underneath your clothes
Crazy little thing called love
Man I feel like a woman
I just want to dance the night away
La bamba
Mambo #5
Living la vida loca
Why does it feel so good (groove jet)
Don't call me baby
Lady
Hold back the night
Unbreak my heart
Shoop shoop song
Jimmy Mack
You to me are everything
Rock D.J.
Eternal flame
When a woman wants her man
Something stupid
Hero
Life
Sing it back
Moving too fast
Neva eva
Baby when you're gone
Not that kind of girl
Simply the best
Pareme
Mountains of morn
Whiskey in the jar
Smooth
Kingston town
Angel
Reach for the stars
It's raining men
Rise again
Never had a dream come true
Mustang Sally
Soul man
Sweet home Chicago
I just want to make love to you
Jailhouse rock
Think
Flip flop fly
Wonderful tonight
Marks blues
Didn't know I was looking for love
What can I do to make you love me
You're still the one
Everyday
How sweet it is to be loved by you
The wind beneath my wings
I feel like making love
My guy
Chanson d'amour
Crazy
You needed me
How deep is your love?
You've got a friend
The sultans of swing
The walk of life
See you later alligator
Sing along /foxtrot medley:
(Smile/I can't give you anything but love/Sunny side of the street/You made me love you/Shine on harvest moon/
When you're smiling.)
Nice & easy
Unforgettable
Baccarach medley:
(What the world needs now/This guy's in love/You'll never get to Heaven/Anyone who had a heart.)
Night & day
Let's face the music & dance
Teach me tonight
Carpenters medley:
(Close to you/Goodbye to love/Yesterday once more.)
50's medley:
(Blueberry hill/Can't stop loving you/Who's sorry now/ You are my sunshine/wonder of you.)
50's/60's medley:
(Raining in my heart/Breaking up is hard to do/Bye bye love/ Walk right back/You're 16.)
60's medley:
(Do wah diddy/Da do ron ron/Shout.)
Will you still love me tomorrow?
My girl
All over now
In the midnight hour
Blues brothers medley:
(Gimme some loving/Shake a tailfeather/Everybody.)
Beauty & the beast
At last
No no no
Lady Marmalade
Amazed
I will survive
Knocking on Heaven's door
Black velvet
Johnny & Mary
Always & forever
So amazing
How do you keep the music playing
Passing strangers
Nat Cole medley:
(Route 66/Straighten up & fly right.)
Drifters medley:
(Under the boardwalk/Come on over to my place/
You can dance.)
Gloria Estefan /Latin tunes:
Conga
The rhythm is gonna get you
1.2.3.
Oye mi canto
Get on your feet
Live for loving you
Everlasting love
Here we are
Don't want to lose you now
Mi tierra
Turn the beat around
Oye como va
Black magic woman
Let the children play
Smooth
Bamboleo
Manhattan
The very thought of you
The man I love
I got it bad & that aint good
That old feeling
Girl from Ipanema
Wave
Blue bossa
Disco medley 1: (Good times/We are family/Ladies night/Young hearts Run free/Hold back the night.)
Disco medley 2: (Love train/He's the greatest dancer/You see the trouble with me/And the beat goes on/I will survive.)
Disco medley 3: (Disco inferno/Hot stuff/Native New Yorker/Celebration/ Car wash/Boogie wonderland/Le freak/It's raining men.)
www.spotlightentertainments.com - 01825 713213 - info@spotlight-ents.biz