Latin Jazz Ensemble

This Latin Jazz Ensemble is one of Europe's leading Latin bands. The band plays superb arrangements of Salsa, Cumbia and Afro-Cuban Jazz, together with a range of other Latin sounds, with an outstanding six piece brass section and red hot rhythms. The director of the band is probably the leading timbalero in Europe, and the band has performed to sell-out audiences across Europe and further afield. The band has also backed many top international Latin soloists including Alfredo Rodriguez, Patato Valdez and Daniel Ponce.
The band is available in a number of different lineups, but the demos featured here are of the 13-16 piece lineups.
Please ask for band code ropl
No flash player!
It appears that you don't have flash player installed. Click here to go to Macromedia download page.
-Alternatively, to receive demo tracks for this band please email us.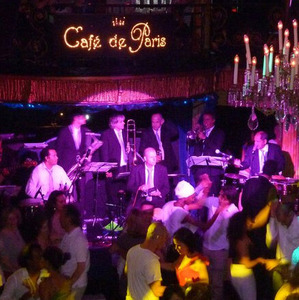 Spotlight Entertainments band roster
www.spotlightentertainments.com - 01825 713213 - info@spotlight-ents.biz