Soul/Funk/Pop Duo
This superb duo covers a repertoire of modern and classic soul, funk and pop. Featuring female vocals and male vocals/bass guitar. The femal evocalist has recorded with numerous top artistes including Oliver Cheetham and Matt Bianco. The duo uses equipment of the highest quality, which has sufficient power for larger venues yet is compact enough for smaller ones.
The duo also performs a lighter selection of jazz standards, which is vocally led with six string or bass accompaniment (or with piano and drums). For larger functions, keyboard, drums and guitar are added to the duo to form a live five-piece band.
please scroll down for song list
Please ask for band code boan
No flash player!
It appears that you don't have flash player installed. Click here to go to Macromedia download page.
-Alternatively, to receive demo tracks for this band please email us.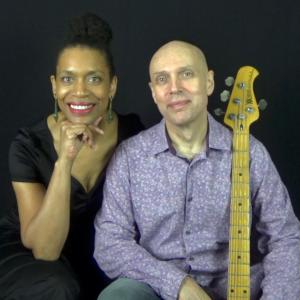 Spotlight Entertainments band roster
A selection from the band's repertoire:
AIN'T NOBODY - RUFUS & CH. KHAN
ALL AROUND THE WORLD - LISA STANSFIELD
ALL NIGHT LONG - MARY JANE GIRLS
ALL WOMAN - LISA STANFIELD
ALWAYS THERE - INCOGNITO
BACK TO LIFE - SOUL II SOUL
BEHIND THE GROOVE - TEENA MARIE
BEST OF MY LOVE - THE EMOTIONS
BLAME IT ON THE BOOGIE - THE JACKSONS
CAR WASH - ROSE ROYCE
DO I DO - STEVIE WONDER
DON'T YOU WORRY 'BOUT A THING - STEVIE WONDER
DREAMS - GABRIELLE
FANTASY - EARTH WIND & FIRE
FOR ONCE IN MY LIFE - STEVIE WONDER
GET HERE - OLETA ADAMS
GOOD TIMES - CHIC
HARVEST FOR THE WORLD - ISLEY BROTHERS
HE'S THE GREATEST DANCER - SISTER SLEDGE
I WANNA DANCE WITH SOMEBODY - WHITNEY HOUSTON
I WANT YOU BACK - JACKSON 5
I SAY A LITTLE PRAYER - ARETHA FRANKLIN
I'M EVERY WOMAN - CHAKA KHAN
IF I CAN'T HAVE YOU - YVONNE ELLIMAN
IN AND OUT OF LOVE - PATTI AUSTIN
JOY & PAIN - MAZE
JUST A LITTLE - LIBERTY X
KILLING ME SOFTLY - ROBERTA FLACK
LADY MARMALADE - LABELLE
LET THERE BE LOVE - NAT KING COLE
LET'S STAY TOGETHER - AL GREEN
LET'S GROOVE - EARTH WIND & FIRE
LOVIN' EVERY MINUTE - LIGHTHOUSE FAMILY
MIDNIGHT AT THE OASIS - BRAND NEW HEAVIES
MOVING ON UP - M PEOPLE
NEVER CAN SAY GOODBYE - GLORIA GAYNOR
RESPECT - ARETHA FRANKLIN
RING MY BELL - ANITA WARD
SEARCH FOR THE HERO - M PEOPLE
SHAKE YOUR BODY - THE JACKSONS
SOMEBODY ELSE'S GUY - JOCELYN BROWN
SOUTHERN FREEEZ - FREEEZ
SWEET LOVE - ANITA BAKER
THAT'S THE WAY I LIKE IT - KC & THE SUNSHINE BAND
THERE'S NOTHING LIKE THIS - OMAR
THINKING OF YOU - SISTER SLEDGE
UPSIDE DOWN - DIANA ROSS
WALK ON BY - DIONNE WARWICK
YOU TO ME ARE EVERYTHING - THE REAL THING
YOU CAN'T HURRY LOVE - DIANA ROSS
YOU MIGHT NEED SOMEBODY - RANDY CRAWFORD
YOU GOTTA BE - DES'REE
YOU MAKE ME FEEL LIKE A NATURAL WOMAN - ARETHA FRANKLIN
"YOU'RE THE FIRST, MY LAST, MY EVERYTHING" - BARRY WHITE
YOUNG HEARTS RUN FREE - CANDI STATON
YOUR LOVE IS KING - SADE
Jazz & Soul Standards (without backing tracks)
ALL THE WAY - SAMMY CAHN & JAMES VAN HEUSEN
AS TIME GOES BY - HERMAN HUPFELD
BLUE MOON - RICHARD ROGERS & LORENZ HART
BODY AND SOUL - JOHN GREEN
CHUCK E'S IN LOVE - RICKY LEE JONES
DON'T KNOW WHY - NORAH JONES
DREAM A LITTLE DREAM OF ME - KAHN & SCHWANDT
EVERY TIME WE SAY GOODBYE - COLE PORTER
FEVER - " CAIOLA, COOLEY & DAVENPORT"
HOW HIGH THE MOON - MORGAN LEWIS
HOW LONG HAS THIS BEEN GOING ON - GEORGE & IRA GERSHWIN
I GET A KICK OUT OF YOU - COLE PORTER
I SAY A LITTLE PRAYER - ARETHA FRANKLIN
I ONLY WANNA BE WITH YOU - HAWKER & RAYBOND
IT HAD TO BE YOU - GUS KAHN & ISHAM JONES
JUST THE TWO OF US - GROVER WASHINGTON JR
LET THERE BE LOVE - IAN GRANT & LIONEL RAND
LET'S STAY TOGETHER - AL GREEN
LET'S DO IT (LET'S FALL IN LOVE) - COLE PORTER
LET'S CALL THE WHOLE THING OFF - GEORGE & IRA GERSHWIN
LULLABY OF BIRDLAND - GEORGE SHEARING
MAKING WHOOPEE - GUS KAHN & WALTER DONALDSON
MIDNIGHT AT THE OASIS - DAVID NICHTERN
MISTY - ERROL GARNER & JOHNNY BURKE
MOONDANCE - VAN MORRISON
MY BABY JUST CARES FOR ME - GUS KAHN & WALTER DONALDSON
MY FUNNY VALENTINE - RICHARD ROGERS & LORENZ HART
NICE WORK IF YOU CAN GET IT - GEORGE & IRA GERSHWIN
NO MORE RAIN - ANGIE STONE
OVER THE RAINBOW - E.Y.HARBURG & HAROLD ARLEN
STORMY WEATHER - HAROLD ARLEN & TED KOEHLER
STREET LIFE - JOE SAMPLE & WILL JENNINGS
SUMMERTIME - GEORGE & IRA GERSHWIN
THE GIRL FROM IPANEMA - ANTONIO CARLOS JOBIM
THE LADY IS A TRAMP - RICHARD ROGERS & LORENZ HART
THE FIRST TIME I EVER SAW YOUR FACE - EWAN MAC COLL
THERE'S NOTHING LIKE THIS - OMAR
THEY CAN'T TAKE THAT AWAY FROM ME - GEORGE & IRA GERSHWIN
UNTIL YOU COME BACK TO ME - "WONDER, PAUL & BROADNAX "
WALK ON BY - BURT BACHARACH & HAL DAVID
WHEN I FALL IN LOVE - EDWARD HEYMAN & VICTOR YOUNG
WHERE OR WHEN - RICHARD ROGERS & LORENZ HART
WONDERFUL WORLD - BOB THIELE & GEORGE DAVID WEISS
YOU ARE THE SUNSHINE OF MY LIFE - STEVIE WONDER
YOUR LOVE IS KING - SADE
www.spotlightentertainments.com - 01825 713213 - info@spotlight-ents.biz