Experienced Harpist
This experienced harpist trained at the The Royal College, Royal Academy and The Guildhall School of Music and is now seen as one of the UK's leading harpists.
As a soloist she has performed for HM The Queen, HRH Duke of Edinburgh, The Lord Chancellor and various visiting Heads of State. She has played at most of London's top venues. She is also in demand as an orchestral performer.
She has an extensive repertoire covering classical, folk, jazz and popular music, so her music is ideal for a wide range of private and corporate functions.
Please ask for act code luco
No flash player!
It appears that you don't have flash player installed. Click here to go to Macromedia download page.
-Alternatively, to receive demo tracks for this band please email us.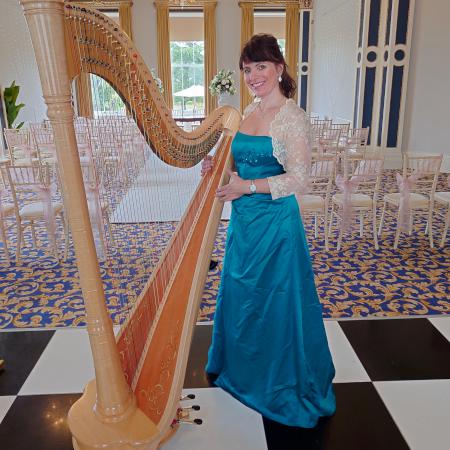 Spotlight Entertainments music roster
Music from Lord of the Rings
Music from Harry Potter
Star Wars theme
Whitney Huston hits
Robbie Williams hits
Judy Garland hits
Van Morrison hits
Beatles hits
Cole Porter hits
Music from The Phantom of the Opera
Music from Evita
Music from Les Miserables
Music from Aspects of Love
Music from Cats
Music from Sunset Boulevarde
Music from The Sound of Music
Music from West Side Story
The Fields Of Gold
Hello
Three Times A Lady
My Own True Love
Cavatina From The Deer Hunter
Theme From Titanic
Norah Jones hits
Nat King Cole hits
Eva Cassidy hits
Frank Sinatra hits
The Wind Beneath My Wings
Ever Green
Can't Help Falling In Love
Embraceable You
Somewhere
Yesterday
Autumn Leaves
Send In The Clowns
Memory
My Funny Valentine
Smoke Gets In Your Eyes
Somewhere Over The Rainbow
All I Ask Of You
Wishing You Were Somehow Here Again
The Music Of The Night
Pie Jesu
Love Is Here To Stay
Someone To Watch Over Me
Can You Feel The Love Tonight
Unchained Melody
Some Enchanted Evening
Misty
There's A Place For Us
'S Wonderful
Edelweiss
You'll Never Walk Alone
From This Moment On
The Prayer
Sound Of Music
Where Is Your Heart
A Nightingale Sang In Berkley Square
We'll Gather Lilacs

Celtic/Traditional
The Lark in the Clear Air
The Foggy Dew
Down by the Salley Gardens
'Tis the Last Rose of Summer
Danny Boy
Afton Water
Ye Banks and Braes
Greensleeves
All Through the Night
The Ash Grove
My Garten Mothers Lullaby
A selection of music by O'Carolan
The Castle of Dromore
Bendemeer's Stream
Scarborough Fair
Merch Megan
Watching the Wheat
O'Carolans Dream
The rose of Tralee
My Lagen Love
She Moved Through the Fair
The Kerry Dance
The Spinning Wheel
The Nightingale

Classical
Jesu, Joy of Man's Desiring- J.S Bach
On Wings of Song- Mendelssohn
Chaconne- Clarke
Canon- Pachelbel
Pavane- Faure
Clair de Lune- Debussy
Meditation- Massenet
The Swan – Saint saens
La Source- Hasslemans
Rhapsody - Paggini
Hornpipe- Purcell
A selection of Sonatinas- Dussek
Ave Maria- Schubert
Premier prelude- Bach
Air on a G string- Bach
Bridal march from Lohengrin- Wagner
Trumpet Voluntary- Purcell
Trumpet Tune- Purcell
Ground in F with Variation- Purcell
Oh mio Babbino Caro - Puccini
Nocturne- Chopin
Etude Op.10- Chopin
Theme and Variations- J. Thomas
Love Unspoken – LeharBarcarolle - Offenbach

Spotlight Entertainments - www.spotlightentertainments.com - 01825 713213 - info@spotlight-ents.biz