Hot Club trio

Hot Club style trio featuring the UK's leading jazz violinist together with guitar and bass producing a sound inspired by Grappelli and Reinhardt's Hot Club of Paris. The group plays stylish and sophisticated music by the likes of Cole Porter, Fats Waller, Gershwin and Duke Ellington. Ideal for music during drinks and dinner. Also ideal for outdoor events, where they can play acoustically with the added visual interest of the strohviol.
Please ask for act code farh
No flash player!
It appears that you don't have flash player installed. Click here to go to Macromedia download page.
-Alternatively, to receive demo tracks for this band please email us.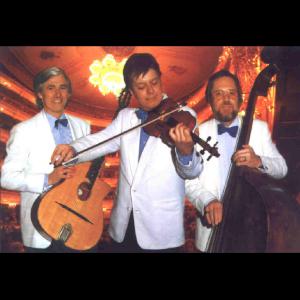 Spotlight Entertainments music roster
A selection from the band's repertoire:
SWEET GEORGIA BROWN
I LOVE PARIS
C'EST MAGNIFIQUE
C'EST SI BON
APRIL IN PARIS
CHARLESTON
LADY BE GOOD
CHINA BOY
BILL BAILEY
SUMMERTIME
MINOR SWING (Featured in the film CHOCOLAT - Fascinatin' Rhythm played at the film premier)
PENNIES FROM HEAVEN
SUNNY SIDE OF THE STREET
ALEXANDER'S RAGTIME BAND
HONEYSUCKLE ROSE
I FOUND A NEW BABY
BUTTON UP YOUR OVERCOAT
FIVE FOOT TWO
DINAH
IT DON'T MEAN A THING (IF IT AIN'T GOT THAT SWING)
UNDECIDED
BRAZIL
GIRL FROM IPANEMA
TUXEDO JUNCTION
PENNSYLVANIA 65000
WAVE
AS TIME GOES BY
A NIGHTlNGALE SANG IN BERKLEY SQUARE
ZING WENT THE STRINGS OF MY HEART
ANYTHING GOES
CHEEK TO CHEEK
SWEET SUE
TAKE THE 'A' TRAIN
EXACTLY LIKE YOU
BASIN STREET BLUES
INDIANA
MAKIN' WHOOPEE
LIZA
DON'T GET AROUND MUCH ANYMORE
GUESS IT DOESN'T MATTER ANYMORE
I GOT RHYTHM
IF I HAD YOU
AIN'T MISBEHAVIN'
A FOGGY DAY
YOU'RE DRIVING ME CRAZY
SWEET LORRAINE
LADY IS A TRAMP
THERE WILL NEVER BE ANOTHER YOU
NUAGES
PEANUT VENDOR
NIGHT AND DAY
DUKE ELLINGTON, FATS WALLER, GEORGE GERSHWIN, COLE PORTER, LOUIS ARMSTRONG,
GLENN MILLER..ETC...ETC...ETC..
Spotlight Entertainments - www.spotlightentertainments.com - 01825 713213 - info@spotlight-ents.biz