Three piece steel band

This superb three piece steel combo has worked with great success throughout the UK at wedding receptions, drinks parties, summer events, race meetings and family fun days. Their cheerful manner and excellent repertoire of caribbean favourites, popular tunes and standards will bring a touch of musical sunshine to your event at any time of year. (Please note: tracks here recorded live so include background noise).
please scroll down for song list
Please ask for act code cast
No flash player!
It appears that you don't have flash player installed. Click here to go to Macromedia download page.
-Alternatively, to receive demo tracks for this band please email us.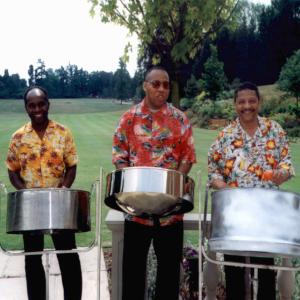 Spotlight Entertainments music roster
A selection from the band's repertoire:
Calpyso, Soca, Caribbean "Island Songs"
Ambakaila
Bacchanal Woman
Back Bay Shuffle
Banana Boat Song (Day'O)
Big Bamboo
Brown Girl In The Ring
Brown Skin Girl
Caroline
Caroline
Don't Back Back
Don't Wok' Fo' Carnival
Dr Cassandra
Ethel Bahia Girl
Feeling Hot Hot
Fire Fire
Island In The Sun
Jamaica Farewell
Kingston Market
Linstead Market
Little Monkey
MaryAnn Party
Matilda
My Band
Netty Netty
Ole' Lady
One For The Road
Pan In A Minor
Pan Symphony In C
Ragga Ragga
Rum & Coca Cola
Sa Sa Yea
Sailing
Say Say (Fire)
Shake Senora
Sly Mongoose
St Thomas
Sugar Bum Bum
Swinging Engine
The Calendar Song
The Cricket Song (Soul Limbo)
The Hammer
When The Saints Go Marching In.
Woman is Boss
Yellow Bird
Sambas, Salsa, Cha Cha Cha & Merengue
Amor Amor
Ay!
Besame Mucho
Brazil
Cielito Lindo
Cosita Linda
El Cumbanchero
Guantanamera
Maria Elena
Moliendo Café
Never-on-a Sunday
Perfidia
Ping Pong Samba
Quando Quando
Sabrosito Asi
Sway
The Lambada
Reggae Music (Including Bob Marley Versions)
Can't Help Fallin' In Love (UB40 Version)
Help Me Make It Through The Night
No Woman No Cry
Swing Low (Sweet Chariot)
Three Little Birds
Ballads
Autumn Leaves
Besame Mucho
Breezing (George Benson)
Dancing Queen (ABBA)
Every Breath You Take (Sting)
Forget You (Cee Lo Green)
Get Me To The Church On Time
Groovy Kind Of Love
I Have A Dream (ABBA)
Imagine (John Lennon)
Lady Of Spain
Love Me Tender
Marry You (Bruno Mars)
More
Price Tag (Jessie J)
Sailing (Rod Stewart)
She's The One (Robbie Williams)
Spanish Eyes
Summer Time
The First Time Ever I Saw Your Face
The Last Farewell (Roger Whittaker)
Top Of The World (Carpenters)
True Love
Un-Chained Melody
Venue

Spotlight Entertainments - www.spotlightentertainments.com - 01825 713213 - info@spotlight-ents.biz