String duo/trio/quartet
This versatile string quartet is also available as a duo or trio for smaller events. The group covers a wide repertoire of classical, light and popular music, so is idealf or a wide range of events, including weddings, corporate and private functions.
The musicians in the group are amongst the leading orchestral players in the UK, having played in many of the leading orchestras and undertaken session work with leading popular music artistes
Please ask for act code boqu
No flash player!
It appears that you don't have flash player installed. Click here to go to Macromedia download page.
-Alternatively, to receive demo tracks for this band please email us.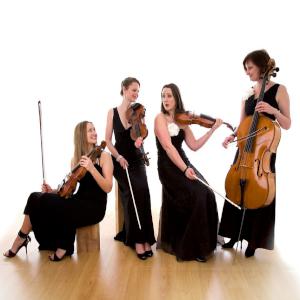 Spotlight Entertainments music roster
A selection from the group's repertoire:
Quartet repertoire (see bottom of page for trio repertoire)
CLASSICAL
Belle of the Ball Waltz - Anderson
Adagio - Albinoni
Air on a G String - J.S. Bach
Double Violin Concerto - J.S. Bach
Brandenburg Concertos nos 2 and 3 - J.S. Bach
Badinerie - J.S. Bach
Sheep May Safely Graze - J.S. Bach
Minuet in G (Anna Magdalena) - J.S. Bach
Arioso from Cantata no 156 - J.S. Bach
Bist Du Bei Mir - J.S. Bach
Cantata no 140 - J.S. Bach
Two Chorale Preludes - J.S. Bach
Jesu, Joy of Man's Desiring - J.S. Bach
Violin Concerto mve. 1 in E major - J.S. Bach
Ave Maria - Bach/Gounod
Adagio for strings - Barber
Rumanian Folk Dances - Bartok
Adagio Cantabile from the Pathetique Sonata - Beethoven
5th Symphony, mve 1 - Beethoven
Fur Elise - Beethoven
Ode to Joy - Beethoven
Selection from Carmen - Bizet
Prince Igor - Borodin
Hungarian Dances - Brahms
O Sole Mio - Capua
Selection of Waltzes - Chopin
Polonaise - Chopin
By the Sleepy Lagoon - Coates
Dambusters March - Coates
Sailors Hornpipe - Coates
Hoe-down from Rodeo - Copland
Saturday Night Waltz from Rodeo - Copland
Christmas Concerto - Corelli
Clair de Lune - Debussy
The Girl with the Flaxen Hair - Debussy
Cake-walk - Debussy
Copelia Medley - Delibes
Flower Duet from Lakme - Delibes
Funiculi Funicula - Denza
Toccata - Dubois
Humoresque - Dvorak
Largo from the New World Symphony - Dvorak
Waltz from Symphony no. 8 - Dvorak
Chanson de Matin and Nuit - Elgar
Salut d'Amour - Elgar
Nimrod - Elgar
Pavane - Faure
Panis Angelicus - Frank
Prelude no. 2 - Gershwin
Morning from Peer Gynt - Greig
Gavotte from Holberg Suite - Greig
Norwegian Dance no 2 - Greig
Wedding Day at Troldhaugen - Greig
Ave maria - Gounod
Arrival of the Queen of Sheba - Handel
Water Music - Handel
Largo - Handel
Violin Sonata in D major - Handel
La Rejouissance - Handel
Serenade - Haydn
Gypsy Life - Herbert
Anniversary Waltz - Ivanovici
Allegretto - Kreisler
Caprice Viennois - Kreisler
Liebesfreud - Kreisler
Leibeslied - Kreisler
Midnight Bells Waltz - Kreisler
Schon Rosmarin - Kreisler
The Old Refrain - Kreisler
Merry Widow Waltzes - Lehar
Adagietto from Symphony 5 - Mahler
Intermezzo from Cavalleria Rusticana - Mascagni
Meditation from Thais - Massenet
Sinfonia and Final Duet (L'incoronazione di Poppea) - Monteverdi
Eine Kleine Nachtmusik - Mozart
Divertimeni in D, Bb and F - Mozart
Marriage of Figaro (wedding march) - Mozart
Allelujah - Mozart
Figaro Overture - Mozart
Symphony in G Minor - Mozart
Wedding March - Mendelsson
Cavatina - Myers
Barcarolle - Offenbach
Canon - Pachelbel
Che Gelida Manina from La Boheme - Puccini
Musetta's Waltz - Puccini
Chacony - Purcell
Trumpet Tune - Purcell
Trumpet Voluntary - Purcell
Two Rondeaux from The Fairy Queen - Purcell
Rhapsody on a Theme of Paganini - Rachmaninov
Vocalise - Rachmaninov
Bolero - Ravel
Menuet from Le Tombeau de Couperin - Ravel
Pavane pour une infante defunte - Ravel
Selection of Waltzes - Richard Rogers
Barber of Seville - Rossini
William Tell Overture - Rossini
The Swan - Saint Seans
Romanza Andaluza - Sarasate
3 Gymnopedies - Satie
Ave Maria - Schubert
Standchen - Schubert
Traumerei - Schumann
Romance - Schostakovich
Two Hearts in Three-Quarter Time - Stolz
Czardas from Die Fledermaus - Strauss
Blue Danube Waltz - Strauss
Die Fledermaus Waltzes - Strauss
Pizzicato Polka - Strauss
Radetzky March - Strauss
Tales from the Vienna Woods - Strauss
Trish Trash Polka - Strauss
Wiener Blut Waltzes - Strauss
Der Rosenkavalier - Strauss R.
Cantabile - Tartini
Amazing Grace - Traditional
Greensleeves - Traditional
Golden Earrings - Traditional
Russian Dance - Tchaikovsky
Selection from the Nutcracker - Tchaikovsky
Waltz from Sleeping Beauty - Tchaikovsky
Four Seasons - Vivaldi
Concerto Grossi in A and D minor - Vivaldi
La Forza del Destino - Verdi
Bachianas Brazileiras - Villa Lobos
Ride of the Valkyries - Wagner
Bridal Chorus - Wagner

LIGHT REPERTOIRE
All I Ask of You from "Phantom"- Lloyd Webber
America from "West Side Story" - Bernstein
An American in Paris - Gershwin
Annie Highlights - Strouse
Anything Goes - Porter
Ashokan Farewell from "The Civil War" - Ungar
As Time Goes By - Hupfield
A Thousand Years - Perri
At Last - Etta James
Bad Romance - Gaga
Bass Vile Blues - Devinez
Beatles Selection - Beatles
Beautiful Day - Evans/Clayton/Hewson/Mullen
Begin the Beguine - Porter
Blue Tango - Anderson
Beside the Seaside - Glover
Beethoven's Five Secrets - Beethoven
Bittersweet Symphony - Jagger
Bohemian Rapsody - Queen
Cabaret - Kander/Ebb
Can't Help Falling in Love - Clapton
Can You Feel the Love Tonight? - Elton John
Charlie Brown - Coldplay
Chasing Cars - Snow Patrol
Chicago - Fisher
Chi Mai - Morricone
Clocks - Coldplay
Cock Linnet - Collins/Leigh
Come in From the Rain - Manchester
Country Medley - Trad.
Czardas - Monti
Dances with Wolves - John Barry
Danzas Argentinas No 2 - Ginastera
Dark Eyes - Trad
Dexter's Tune (Awakenings) - Newman
Do It Again - Gershwin
ELO - Mr Blue Sky
El Choco Tango - Villoldo
Embraceable You - Gershwin
Evergreen - Streisand
Every Time we say Goodbye - Porter
Everything I Do - Adams
Everywhere - Mc Vie
Faulty Towers theme - Wilson
Feelings - Albert
Fields of Gold - Sting
Forgotten Dreams - Anderson
For Just a Moment - Foster
Gabriel's oboe - Morricone
Game of Thrones - Djawadi
Get Lucky - Pharrell Williams
Gimme, Gimme, Gimme - Andersson
God Only Knows - The Beach Boys
Goldfinger - Barry
Goodbye to Love - Carpenters
Happy - Williams
Have I Told You Lately - Van Morrison
Hawaii Five 0 Theme - Setzer
Hedwig's Theme from Harry Potter - John Williams
Hey Soul Sister - Train
Hotel California - The Eagles
Hushabye Mountain (Chitty Chitty Bang Bang) - Sherman
I Don't Know How to Love Him - Lloyd Webber
I Feel Pretty from "West Side Story" - Bernstein
I got Rhythm Variations - Gershwin
I Love Paris - Porter
I'm Yours - Jason Marz
Inspector Morse Theme - Pheloung
Irish Sherry - Trad./Carolan
If You Could Read My Mind - Lightfoot
In the Mood - Garland
It Don't Mean a Thing - Ellington
James Bond Themes - Norman/ Barry
Jalousie Tango - Gade
Jeeves and Wooster Theme - Dudley
Just Another Rhumba - Gershwin
Just the Way You Are - Bruno Mars
King and I selection - Rogers
Kiss From a Rose - Seal
La Bamba - Trad.
Ladies in Lavender - Hess
Laura - Raskin
La Vie en Rose - Louiguy
La Cumparsita - Rodrigez
La Paloma - Iradier
Leaving on a Jet Plane - Denver
Lets Do It - Porter
Let's go Fly a kite - Sherman
Let's Stay Together - Green
Libertango - Piazzolla
Livin' on a Prayer - Bon Jovi
Londonderry Air - Trad.
Looney Tunes Fugue - Naughtin
Love Theme from "The Godfather" - Rota
Loyko - Trad.
Make you Feel my Love - Adele
Makin' Whoopee - Donaldson
Mamma Mia - Anderson
Manha de Carnaval from "Black Orpheus" - Bonfa
March from Star Wars - John Williams
Maria from "West Side Story" - Bernstein
Memory from "Cats" - Lloyd Webber
Misty - Garner
Moondance - Van Morrison
Morenita do Brazil - Fragrant
Music of the Night from "Phantom" - Lloyd Webber
Music to Watch Girls by - Velona
My Funny Valentine - Rogers
My Heart Will Go On from "Titanic" - Horner
Natal Variations (Happy Birthday) - Naughtin
New York New York - Xander
Noites Cariocas - Bandolim
Nothing Else Matters - Metallica
One Day Like This - Elbow
One Hand One Heart from "West Side Story" - Bernstein
Orange Blossom Special - Rouse
Over a Rainbow - Arlen
Palladio - Jenkins
Paradise - Coldplay
Pennies From Heaven - Johnson
Poirot Theme - Gunning
Por Una Cabeza Tango from "Scent of a Woman" - Gardel
Pride and Prejudice Theme - Davis
Purple Haze - Hendrix
Ragtime Dance - Joplin
Raiders March (Raiders of the Lost Ark) - John williams
Red Sails in the Sunset - Williams
Romeo and Juliet Love Theme - Rota
Rule the World - Take That
Say Something - McCartney
Scarborough Fair - Trad./Bowles
Selection of Christmas Music/Carols - Various composers
Selection of Hymns - Various composers
Selection of Rags - Joplin
Send in the Clowns - Sondheim
Someone to Watch Over Me - Gershwin
Somewhere from "West Side Story" - Bernstein
Stormy Weather - Arlen
Suddenly - Diamond
Sunrise Sunset - Bock
Sway/Cherry Pink - Beltran
Sweet Child O'Mine - Guns and Roses
Take the A train - Strayhorn
The Folks who Live on the Hill - Kern
The Greatest Day - Take That
The Gremlin Rag (Gremlins) - Jerry Goldsmith
The Harry Lime Theme - Karas
The Magnificent Seven - Bernstein
The Prayer (Quest for Camelot) - Sager/Foster
The Throne Room (Star Wars) - John Williams
Theme from "Summer of 42" - Legrand
Thunderbirds Theme - Gray
Tanguedia - Piazzolla
Thinking Out Loud - Ed Sheeran
Tico-Tico - Abreu
Tonight - Bernstein
Truely - Richie
Viva la Vida - Berryman
What's New? - Haggart
What are you Doing for the Rest of Your Life? - Brooks
When I First Saw You - Krieger
Wonderful Tonight - Clapton
Without You - David Guetta
You Make me Feel Like a Natural Woman - King
You Really Got Me - The Kinks
You're the Inspiration - Foster

Trio Repertoire
CLASSICAL
Albinoni - Adagio
Arne - National Anthem
Bach - Air on a G String
Bach - Sarabande and Gavotte (6th cello suite)
Bach - Brandenburg Concerto Grosso no III
Bach - Sheep May Safely Graze
Bach - Jesu Joy of Man's Desiring
Bach - Three Part Invensions
Beethoven - Minuet no 1 in C
Beethoven - Minuet no 2 in G
Beethoven - Minuet no 6 in C
Bizet - Habanera from "Carmen"
Boccherini - Menuette
Brahms - Hungarian Dances no 5 and 6
Clarke - Trumpet Tune
Debussy - Clair de Lune
Delibes - Flower Duet
Delibes - Pizzicato Polka
Dvorak - Humoresque
Elgar - Nimrod
Elgar - Chanson de Matin
Elgar - Nimrod
Elgar - Salut D'Amour
Faure - Pavane
Frank - Panis Angelicas
Gounod - Ave Maria
Greig - Waltz
Greig - Morning from Peer Gynt
Greig - In the Hall of the Mountain King
Handel - Water Music
Handel - Arrival of The Queen of Sheba
Handel - Andante and Saraband
Handel - Largo
Haydn - German Dance
Haydn - Serenade
Haydn - Trio in 3 movements
Haydn - Trio Sonatas
Kreisler - Liebeslied
Kreisler - Liebesfreud
Kreisler - Polichinell
Kreisler - Schon Rosmarin
Lauro - Valse Venezolano
Martini - Gavotte
Mascagni - Cavalleria Rusticana
Massenet - Meditation from "Thais"
Mozart - Andantino
Mozart - Divertimento in 5 movements
Mozart - Adagio and Menuetto
Mozart - Eine Kleine Nacht Musik
Mozart - Sieben Menuette
Mozart - Selection of Trios
Mendelssohn - Wedding March
Mendelssohn - Nocturne from Midsummer Night's Dream
Mouret - Rondeau
Pachelbel- Canon
Prokofiev - March for the Love of Three Oranges
Purcell - Trumpet Voluntary
Schubert - Ave Maria
Schumann - Soldier's March
Schumann - Traumerei
Sieben - Menuette
Strauss - Selection of walzes
Tartini - Cantabile
Tchaikovsky - Dance of The Cygnets
Tchaikovsky - March from the Nutcracker
Tchaikovsky - Largetto Amoroso
Trad.- Greensleeves
Trad.- Heissa Troika
Vivaldi - Spring, Autumn and Winter from "The Four Seasons"
Wagner - Bridal Chorus
LIGHT
Adele - Make You Feel My Love
Aerosmith - I Don't Want To Miss a Thing
Arlen - Somewhere Over a Rainbow
Aznavor - She
Aznavor - Yesterday When I Was Young
Barry - James Bond Selection
Bart - I'd Do Anything (from Oliver)
Beach Boys - God Only Knows
Beatles - Selection
Bennet/ Welch - Summer Holiday
Berlin - Cheek to Cheek, Sisters, There's no Business Like Show Business
Bern - Smoke Gets in Your Eyes, A Fine Romance
Bergman - What are you doing for the rest of your life?
Beyonce - Halo
Bock - Fiddler on the Roof selection
Bor - Bach at the Double
Clean Bandit - Rather Be
Coldplay - Paradise
Coldplay - Till kingdom come
Coldplay - Viva la Vida
Denver - Annie's Song
Desiree - I'm Kissing You
Dudley - Jeeves and Wooster Theme
Dwawadi - Game of Thrones
Elbow - One day like this
Elfman - The Simpsons Theme
Elvis - Can't Help falling in Love
ELO - Mr Blue Sky
Etta James - At Last
Gardel - Tango Pour Una Cabeza
Gay - Lambeth Walk, Run Rabbit Run
Gershwin - Lady Be Good
Gershwin - Fascinating Rhythm
Gershwin - Summertime
Gershwin - I Got Plenty of Nothing
Gershwin - Swanee
Glover - Rose of Tralee
Gordon - Unforgettable
Henderson - You're the Cream in my Coffee, Five Foot Two
Herman - Hello Dolly
Hiller - Save All Your Kisses for Me
Howard - Fly Me To The Moon
Hupfield - As Time Goes By
Jenkins - Palladio
Joplin - A Selection of Rags
John - Can You Feel the love tonight?
Kaempfert - Strangers in the Night
Kern - A Fine Romance
King - Stand by Me
Lai - Love Story Theme
Lloyd Webber - The Music of the Night, All I Ask of You
Mancini - Moon River
Mars - Amazing
Mars - Marry You
Menken - Beauty and The Beast
Mer/Elling/ Stray - Satin Doll
Menz - Dixieland Blues
Mraz - I'm Yours
Perri - A Thousand Years
Porter - Night and Day, I've Got You Under my Skin
Preston - Bicycle Made for Two and Variations
Queen - You're My Best Friend
REM - Nightswimming
Rota - Godfather Theme
Rota - Michael's Theme
Schonberg - I Dreamed a Dream
Seal - Kiss From a Rose
Sheeran - Thinking Out Loud
Sherwin - A Nightingale Sang in Berkley Square
Sledge - When a Man Loves a Woman
Sting - Fields of Gold
The Verve - Bittersweet Symphony
Traditional - Irish Music Selection
Traditional - Congratulations
Traditional - Happy Birthday
Traditional - Tum Balalayka
Traditional - Hava Nagila
Traditional - Siman Tov
Traditional - Eshes Chayil
Traditional - Scarborough Fair
Turk - Are You lonesome tonight?
Van Morrison - Moondance
Warren - That's Amoure
Weisse/Theile - It's a Wonderful World
White - You're my First my Last my Everything
WH - Little Brown Jug
Williams - Get Lucky
Williams - Happy
Wonder - Signed, Sealed, Delivered
Yumans - Tea For Two

Spotlight Entertainments - www.spotlightentertainments.com - 01825 713213 - info@spotlight-ents.biz